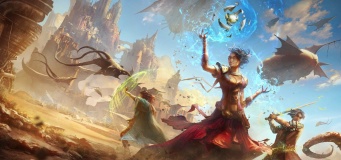 The games ecosystem is vast. Aside from early game consoles that are still found in arcades, entering the 21st century with an enhanced internet due to robust mobile broadband, PC gaming, and mobile online games found their way into consumers hearts and minds entering the 21st century, especially games with an addicting nature.
Anxious to get started playing free games online or to read reviews and watch video trailers of current and hot new games?
Evolution of the online games industry
Games have been prevalent in our culture for decades, but the rise of online games and mobile, PC gaming apps is more recent. In the early 1970's Atari, Inc. released the first commercially successful home video game, Pong, following the original arcade version which debuted in arcade cabinets. By the early 1980s, the industry saw a golden age of video arcade games reach new highs surpassing the annual gross revenue of both the pop music industry and Hollywood films combined at that time.
The 1990s saw advancements in game-related technology with the onset of GUI-based operating systems, such as the Amiga OS, Microsoft Windows, and Mac OS. Also, advancement in 3D graphics technology, and the continuing upgrades of CPU speed all of which would strengthen the stage for the age of video gaming. Beyond this timeline, the emergence of more powerful and affordable bandwidth on the internet and mobile phone data from the 2000s enabled free games distribution, online co-operative play, and competitive gaming and mobile smartphone adoption of casual games.
Going into the 21st century, technologies such as smartphones, virtual reality and augmented reality gear act as a catalyst for online game hardware and gameplay development. eSports emerges, centered around professional players in organized competitions and leagues for prize money, and grows rapidly drawing hundreds of millions of viewers to the competitions. In total, these online games have chartered their own course to become several billions of dollars ahead of console gaming.
Even the use of comics to expand upon a video game's story has been happening more and more in recent years, to the extent where it's probably more prevalent than you imagine. Comics may have the opportunity to deepen and extend the mythology of a protagonist and/or affiliated characters in ways that just aren't possible in the game because of a lack of time, focus and direction. The appeal of comics is that there is a story that gradually unfolds and evolves over time. This may also be part of a multi-platform approach to telling a story called transmedia narrative. For example, Marvel has tied together their movies with their television show, Agents of SHIELD (2013), and players of the new online role-playing game, Defiance (2013), in a way to influence events in the television show (SyFy, 2015).
The afore-mentioned timeline events ultimately set the stage for an era of online games. In the paragraph below is a listing of some of the well-regarded game publishers that put out some of the more celebrated game titles such as, Death Stranding, Apex Legends, Mortal Kombat 11, Borderlands 3, Kingdom Hearts III, Metro Exodus, Pokémon Sword and Shield, Call of Duty: Modern Warfare, Control, Far Cry New Dawn, Star Wars Jedi: Fallen Order, Crash Team Racing Nitro-Fueled, Days Gone, Doom Eternal, The Outer Worlds, Wolfenstein: Youngblood, Gears 5, Bloodstained: Ritual of the Night, Super Mario Maker 2, Anthem, Sekiro: Shadows Die Twice, Shenmue 3, Luigi's Mansion 3, Crackdown 3, Yoshi's Crafted World, World of Warcraft Classic, eFootball Pro Evolution Soccer 2020, Marvel Ultimate Alliance 3: The Black Order, Cadence of Hyrule, The Legend of Zelda: Link's Awakening, Ace Combat 7: Skies Unknown, Tetris 99, Code Vein, Katana Zero, The Surge 2, New Super Mario Bros. U Deluxe, Need for Speed: Heat, and many others to numerous to name.
Twitter feed presenting game releases and updates from video game publishers
View the latest announcements on new game releases, online games for kids, multiplayer online games, gaming websites, revisions and updates to popular games from the official Twitter feed of the listed game publishers on this page. More news resources on the games industry can be found at this link.
A Twitter List by CoolFireTech
Video Game Publishers
The role of the video game publisher is that it publishes video games that have been developed internally by its own design/developer team or externally by a video game developer or studio. Below are well-regarded game publishers without regard to corporate size.
You have been reading
Online games and game publishers that get games to your computer or mobile device