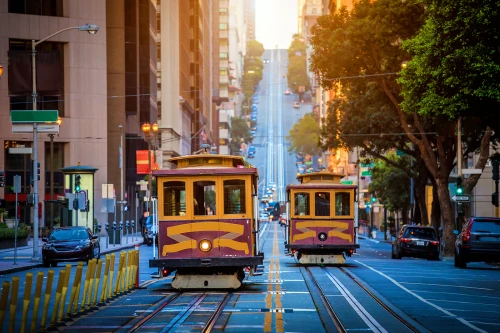 San Francisco encompasses a considerable market for vacation rentals. It is the host city of the corporate headquarters of Airbnb. Hotels are plentiful and guests should be able to find something affordable in a central location, such as Union Square.
The City and County of San Francisco offer free WiFi service in selected areas and parks of the City. This official connection can be recognized as "#SFWiFi". You can always use your mobile phone to scan the area you are in to see if the signal is present in your area. To connect to "#SFWiFi" select the WiFi network from your mobile device. Then launch a web browser and click the button to accept the terms and conditions. Find more wifi hotspots in San Francisco at this link.
Workcation resources of particular interest to travelers have been added to the Google map as round lavender markers with a white star. Although they will only be a limited sample of what is fully available. Make sure to search fully if your needs go beyond what is shown on the Google map for other options.
Find remote work resources on your workcation trip to San Francisco, California
View the Google map of San Francisco below to locate remote work resources during your stay in the area. Starting from the city center you will find essential remote work resources and lodging to have a productive workcation in San Francisco. Emphasis is placed on workcation resources, highlighted by the white star within the purple dot, that include:
Coworking and office space
Transportation hubs
FedEx shipping and office resources
Various research libraries
Post Office branches
The Google Map on the page has been customized to show you remote work resources that include coworking spaces, public transportation stations, Federal Express shipping, and office services, libraries for research and reading, and government postal locations. The commercial and business categories included on the map by the purple dots are not exhaustive, so users are encouraged to enter search terms in the map search box to bring up additional locations. In addition, you can use the map to search for lodging accommodations, restaurants, cafes, grocery stores, and any other commercial service that is not included in the customized category.
You have been reading
Workcation travel to San Francisco, California