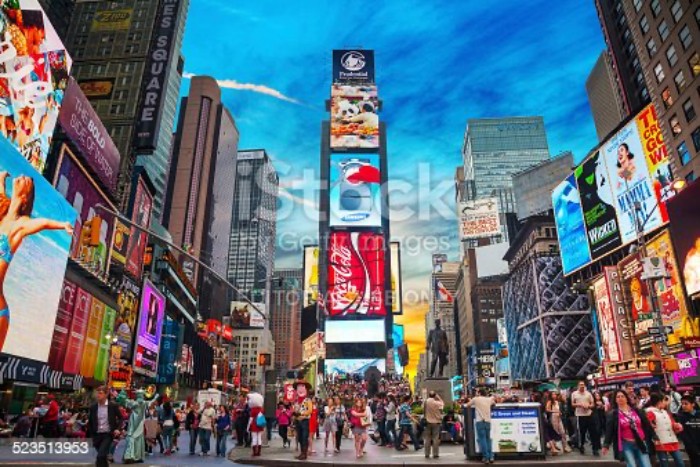 Pondering a workcation trip to New York City? New York City is a global hub of business and commerce and an established haven for global investors, owing in no small part to the Wall Street financial district (FIDI). Many Fortune 500 corporations are headquartered in New York City, as are a large number of multinational corporations. You should know it has the third largest library in the world and the second-largest in the United States behind the Library of Congress. There are 520 miles of coastline (though not the most exotic for beach getaways). It has commonly been known as "the city that never sleeps", though, in the post-pandemic era where remote work and work-at-home are more the norms, the claim may be tempered a bit. New York's 24-hour metro Subway system is the largest in the world when measured by stations in operation, and by the length of routes, and its bus fleet is the largest in North America.
With major tourist destinations in Manhattan and millions of international visitors, there will be no shortage of hotels that you can check into while staying in New York City. And actually many new boutique and revitalized hotels have sprung up since the beginning of the 2000s. Manhattan which has the vast majority of hotel rooms was on track to have an estimated 90,000 hotel rooms at the end of 2014 according to an article from Curbed written October 9, 2013, by Jessica Dailey. However, the 2000 coronavirus pandemic that shut down most commerce across the globe took thousands of rooms off the market. Still, there will be no shortage of rooms and other short-term rentals and temporary housing to consider when planning a trip to New York City.
In New York City, there are so many places to access free wifi access at. LinkNYC is a wifi hotspot network provided through highly visible kiosks that can be found in all five boroughs of NYC. Started in conjunction with the City of New York and CityBridge technology consortium, LinkNYC also offers free phone calling, device charging, and a tablet for access to city services, maps and directions. To begin connecting with links across the city is just a simple matter of registering your email within the network, then you are good to go. You can find where LinkNYC is close to you by using this web link. The City of New York also provides wifi connectivity at NYC subway stations via the TRANSITWIRELESSWIFI network, and an increasing number of transit busses as well. Additionally, many parks across the boroughs offer some free wifi at the larger, more well-known parks such as Central Park, Prospect Park, Flushing Meadows Corona Park, and others.
Beyond the municipal wifi hotspot locations, Starbucks, McDonald's, Dunkin Donuts, Whole Foods, and several other retail chain outlets will provide wifi in a cafe setting where applicable. One power user tip is that Apple Computer is fairly liberal in granting access to free wi-fi and devices to use at their stores (including the bathroom), and their Fifth Avenue store is open 24 hours to visit. Here are other guides to locating free wifi hotspots during a trip to New York City:
Workcation resources of particular interest to travelers have been added to the Google map as round lavender markers with a white star inset. Although they will only be a limited sample of what is fully available. Make sure to search fully if your needs go beyond what is shown on the Google map for other options.
Find remote work resources on your workcation trip to New York City, USA
View the Google map of New York City below to locate remote work resources during your stay in the area. Starting from the city center you will find essential remote work resources and lodging to have a productive workcation in Barcelona. Emphasis is placed on workcation resources, highlighted by the white star within the purple dot, that include:
Coworking and office space
Transportation hubs
FedEx shipping and office resources
Various research libraries
Post Office branches
The Google Map on the page has been customized to show you remote work resources that include coworking spaces, public transportation stations, Federal Express shipping, and office services, libraries for research and reading, and government postal locations. The commercial and business categories included on the map by the purple dots are not exhaustive, so users are encouraged to enter search terms in the map search box to bring up additional locations. In addition, you can use the map to search for lodging accommodations, restaurants, cafes, grocery stores, and any other commercial service that is not included in the customized category.
You have been reading
Workcation travel to New York City USA