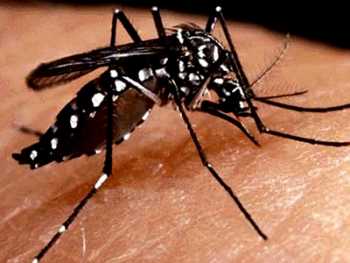 Zika virus is primarily spread through some of the many mosquito species in existence. And reminiscent of HIV transmission it can also be spread from one person to another through sexual contact or blood transfusion. For more than half-way into 2016, mosquito species that are indigenous to the regions of Central America, South America, the Caribbean, Mexico, and Puerto Rico were regions known as outbreak areas of the viral infection.
Although there are many species of mosquito, in the United States, Aedes aegypti (also known as yellow fever mosquito) mosquitoes are potent transmitters as are Aedes albopictus mosquitoes. Both are common to the New York-New York State region which is known to be a popular travel destination for people from all over the world. And in mid-2016, an area of downtown Miami became an outbreak area, requiring travel warnings into the area as well as larvicide control procedures to stop the breeding and spread of these mosquitos that are known carriers.
Health effects
One of the most consequential health risks of the Zika virus is that it has been linked with serious birth defects in babies of mothers who were infected with Zika virus while pregnant. One birth defect in particular, microcephaly, affects babies that are born with smaller than normal heads and less developed brains. Some countries that have experienced Zika outbreaks recently have reported increases in people who have Guillain-Barré syndrome (GBS), but CDC (Center for Disease Control) research indicates that only a small proportion of people with recent Zika virus infection get GBS.
Zika virus symptoms
It is known that people infected with Zika virus will show mild symptoms or may not show any symptoms at all. When they do show up, Zika symptoms include:
* joint pain
* rash
* viral fever
* discolored eyes known as Conjunctivitis
* headache
* muscle pain
Symptoms that are noticeable can last for several days or up to a week and are similar to other viruses spread through mosquito bites, like dengue and chikungunya. Once a person has been infected, he or she is likely to be protected from future infections.
Testing and treatment
Zika virus usually remains in the blood of an infected person for about a week. When being tested for Zika virus, a doctor or other healthcare provider will likely order blood tests to detect Zika or other similar viruses like dengue or chikungunya. Getting tested is especially important if you are pregnant woman that has recently traveled to an outbreak area. Be sure to tell your doctor or other healthcare provider where you traveled.
Treatment for Zika with particular medicines might be similar to treating other viral infections and can include acetaminophen (Tylenol®) or paracetamol to reduce fever and pain. Drink fluids to prevent dehydration. Get plenty of rest. For anyone taking medicine for another medical condition talk to your healthcare provider before taking additional medication.
Previous history of Zika Virus outbreak
Reportedly, before Zika made its way into Latin America and the Caribbean, the largest outbreak ever recorded had been in French Polynesia including the island of Tahiti. Between 2013 and 2014, researchers concluded nearly 20,000 people on the cluster of islands in the South Pacific were infected with the virus. Initially, it was presumed that the inhabitants of the cluster of islands in the South Pacific were being re-infected with a dengue outbreak although the likelihood of being re-infected with a mild form of dengue was deemed unlikely.
About the CDC (Centers for Disease Control and Prevention)
As the USA's health protection agency, CDC saves lives and protects people from health threats. To do this CDC conducts critical science and provides health information that protects the US against expensive and dangerous health threats and responds when these arise.
CDC laboratories routinely works with some of the most deadly germs in the world, while identifying health threats and conducting vital public health research. CDC constantly develops and reviews extensive laboratory guidelines and procedures to protect both the public and laboratory workers. Address and contact information for the CDC follows below.
Centers for Disease Control and Prevention
1600 Clifton Road
Atlanta, Georgia 30329-4027
USA
Phone: 800-232-4636; TTY: 888-232-6348
http://www.cdc.gov/
World Health Organization
On the international stage, the World Health Organization (WHO) and partners have come up with a strategic response to Zika virus that directs resources to preventing and managing medical complications caused by Zika viral infection. The Response Plan outlines four main objectives (Detection, Prevention, Care and Support, Research) to support national governments and communities in preventing and managing the Zika Virus outbreak and ensuing consequences. Expanding health systems' capacities in affected countries is one of the cornerstones of the Strategic Response Plan. The Strategy also focuses on communicating risks with women of child-bearing age, pregnant women, their partners, households and communities. Address and contact information for WHO follows below.
World Health Organization
Avenue Appia 20
1211 Geneva 27
Switzerland
Phone: + 41 22 791 21 11; Fax: + 41 22 791 31 11
http://www.who.int/en/
_______________________________
Zika Virus Frequently Asked Questions (Revised: July 2016)
http://www.health.ny.gov/diseases/zika_virus/faq.htm
Zika In French Polynesia: It Struck Hard In 2013, Then Disappeared, by Jason Beaubien (goats and soda - Stories of Life in a Changing World, February 9, 2016)
http://www.npr.org/sections/goatsandsoda/2016/02/09/466152313/zika-in-french-polynesia-it-struck-hard-in-2013-then-disappeared
WHO: World Health Organization (website)
You have been reading
Zika Virus Outbreak Information and Health Organizations Combatting its Spread