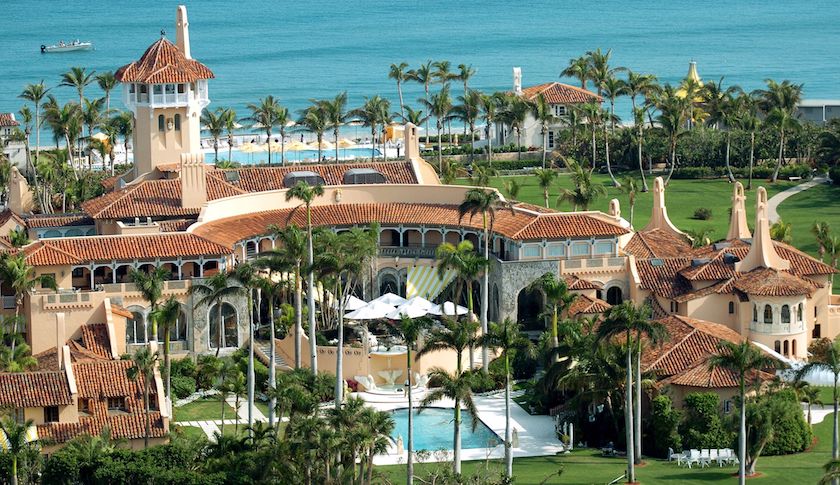 It's a destination that is quite often in the news. The Donald Trump Mar-a-Lago property has become this 45th president's primary getaway home (with nearby Trump International Golf Club) outside of the White House in lieu of what would otherwise be a more spartan Camp David retreat that has served as the default relaxation spot for the majority of U.S. presidents.
As of 2017, of the 45 presidents that have served the U.S., some have resided (at least part-time) in secondary housing. Harry Truman who served from 1945-1951 resided in Key West, Florida. John F. Kennedy who served from 1961-1963 resided in Palm Beach, Florida. Richard Nixon who served from 1969-1974 had a residence in Key Biscayne, Florida, to name a few presidents in recent history.
Often referred to as Trump's "Winter White House" due to its year round warm weather location in Palm Beach, Florida, President Donald Trump, the 45th President of the United States maintains the Mar-a-Lago property as both a family compound and commercial luxury resort. Mar-a-Lago, a National Historic Landmark, was completed in 1927 by socialite Marjorie Merriweather Post (the cereal heiress who passed away in 1973) who once bequeathed it to the National Park Service (though it was returned due to costly upkeep), for the intention of being used for state visits or as a Winter White House.
Mar-a-Lago was purchased by Donald Trump in 1985 and the Trump family has since maintained private quarters in a separate, closed-off area of the expansive mansion and grounds from the rest of the member-guest quarters. As the 45th President of the United States, Trump uses the location along with the nearby Trump International Golf Club (West Palm Beach) in lieu of Camp David. Donald Trump has referred to Mar-a-Lago as his "Winter White House" and alternately the "Southern White House."
View a YouTube slideshow video of Mar-a-Lago in Palm Beach, Florida
Since Donald Trump became President the initiation membership fee for joining Mar-a-Lago jumped to $200,000, double the price before Trump's election in November 2016, and that doesn't include the $14,000 yearly dues, or the annual food and beverage minimum.
The first governmental spending on property improvements of private presidential residences was at Dwight Eisenhower's Gettysburg farm, where the Secret Service added three guard posts to a fence. Federal law now allows the president to designate a residence outside of the White House as his temporary offices so that federal money can be used to provide required facilities.
View a YouTube video filmed by The Today Show on "How Much President Trump's Trips To Mar-a-Lago Are Costing Taxpayers"
Luxury features and amenities offered at Mar-a-Lago
The luxury features and/or amenities offered by Mar-a-Lago can be viewed as distinct categories consisting of the spa, transportation service, sports recreation including golf, dining, and living quarters.
You can expect to find these features and luxury amenities at the Mar-a-Lago Estate outlined in this summarized listing:
Trump Spa and Fitness center equipped with state-of-the-art workout machines, beach and pool, red clay tennis courts, Bridge, croquet, beauty center, hair salon and beach club.
Access to the Trump National Transportation Service operating a fleet of Four (4) types of luxury vehicle for various excursions.
The Trump Boutique featuring men's, women's and children's clothing, Frette bathrobes, tee shirts adorned with Swarovski crystals, aromatic candles, the Trump Signature line of skin care and body products.
Beachfront Quarters include: Cabanas 1-5, Beach Penthouse 1, Beach Penthouse 2
Rooms include: Venetian Room, Sunshine Room, Spanish Room, Seven Windows, Portuguese Room, Pool Cottage I, Pool Cottage II, Pool Cottage III, Lake Room, French Room, Fountain Room, Dutch Room
Cottages and Bungalows include: Gatehouse I-V, Tennis Cottage, Lakeview Bungalow I and II
Suites include Tower Suite, Marjorie Merriweather Post Suite, Garden Suite 1. Garden Suite 2, E.F. Hutton Suite, Adam Suite
Please contact the concierge for current and accurate Mar-a-Lago room and membership rate information and details.
Trump Golf Course
Trump International Golf Club, West Palm Beach is close by to the Mar-a-Lago resort. It carries a Five-Star Diamond Award from the American Academy of Hospitality Sciences. The 27-hole golf course was designed by architect, Jim Fazio. Opened in 1999, the West Palm Beach location was the first Trump golf course property and it has hosted championships for the LPGA. Other Trump Golf properties throughout the world include:
Trump National Golf Club Bedminster, Bedminster, New Jersey
Trump National Golf Club Charlotte, Charlotte, North Carolina
Trump National Golf Club Colts Neck, Colts Neck, New Jersey
Trump National Doral, Miami, Florida
Trump National Golf Club Hudson Valley, Hudson Valley, New York
Trump National Golf Club, Los Angeles, California
Trump National Golf Club, Philadelphia, Pennsylvania
Trump National Golf Club, Washington D.C.
Trump National Golf Club Westchester, Westchester, New York
Trump National Golf Club Jupiter, Jupiter, Florida
Trump International Golf Links, Aberdeen, Scotland
Trump International Golf Links and Hotel, Doonbeg, Ireland
Trump Turnberry, Turnberry, Scotland
Trump International Golf Club Dubai, Dubai
Trump World Golf Club Dubai, Dubai
Trump Golf Links at Ferry Point, Ferry Point, New York
Google Map of Trump International Golf Club, West Palm Beach that is close to Mar-a-Lago
Please contact the administration for current rate and membership information and details.
Contact Trump Golf Properties at:
Trump Golf
725 Fifth Avenue
New York, New York 10022
Phone: 212-832-2000
Email: contact form
https://www.trumpgolf.com/
Location and contact details for Mar-a-Lago
The Mar-a-Lago Club
1100 South Ocean Boulevard
Palm Beach, Florida 33480
Phone: 561-832-2600
Email: contact form
http://www.maralagoclub.com
The Google Map shows where to find Mar-a-Lago in the Palm Beach vicinity as well as the compound layout
_______________________________
SOURCES:
A History of Mar-a-Lago, Donald Trump's American Castle. By Sam Dangremond (Town & Country, April 6, 2017)
http://www.townandcountrymag.com/style/home-decor/a7144/mar-a-lago-history/
Winter White House. By: Miller, Zeke J. (Database: Academic Search Premier; Time, 0040781X, 2/27/2017, Vol. 189, Issue 7/8)
http://web.b.ebscohost.com.i.ezproxy.nypl.org/ehost/detail/detail?sid=e6ab4877-2607-44c3-a51a-972e9cba4218%40sessionmgr102&vid=3&hid=125&bdata=JnNpdGU9ZWhvc3QtbGl2ZQ%3d%3d#AN=121318861&db=aph
How Much President Trump's Trips To Mar-a-Lago Are Costing Taxpayers – TODAY (YouTube video)
https://www.youtube.com/watch?v=WC_-naHpuwk&spfreload=10
Mar-A-Lago House Plan (Weber Design Group website)
https://www.weberdesigngroup.com/house-plan/mar-a-lago-house-plan/
The Mar-a-Lago Club (website)
http://www.maralagoclub.com
Donald Trump's Mar a Lago resort (YouTube video)
https://www.youtube.com/watch?v=g__h019xOzE
Trump Golf (website)
https://www.trumpgolf.com
List of residences of Presidents of the United States (Wikipedia, the free encyclopedia)
https://en.wikipedia.org/wiki/List_of_residences_of_Presidents_of_the_United_States
You have been reading
Donald Trump Mar-a-Lago, the Winter White House and Golf Club